Order elegant Big Prints like Pixum Canvas Prints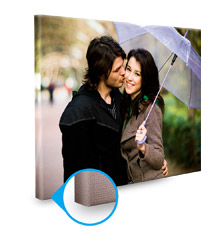 Your favourite photos deserve more than simply being stored in an archive on your computer - so keep them alive as Pixum Canvas Prints or another stylish Big Print that will be a beautiful eye-catcher on your walls. If you are looking for a special piece of decoration for your rooms, your photo printed on a canvas fabric is a perfect alternative because its high-quality material reveals your snapshot in brilliant colours and thus guarantees an elegant as well as an impressive look. Thanks to UV-resistant colours, your photo seems to shine - even after several years and in rooms that are flooded with light.
Pixum Canvas Prints - three printing types available
If you get your photo printed on canvas by the award-winning photo service Pixum, you can choose between three different versions. For example take our classical one printed on a high-quality fabric that is mounted on a real wooden frame and is available in several sizes from 12"x8" to 59"x42" - modern printing methods and a use of intensive as well as shining colours provide an especially great look.
Pixum Canvas Prints "Havana" are your second option and have a decorative coloured frame from Nielsen of blue, cream or red. If you pick this version, your image is printed on high-quality canvas fabric in sizes from 12"x8" to 32"x24". Canvas Prints "Art" are your third option at Pixum and are available in the same sizes as "Havana" but surrounded by an elegant coloured frame of black, black-silver and black-gold. You can find all information about prices and postage for all three versions in the Pixum pricelist. Show your creative talent and design a decorative Big Print to draw attention to your walls.