Pixum Photo Books - the perfect way to display special snapshots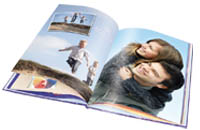 If you want to show your greatest photos to your family and friends, get them printed as a book. It is a perfect alternative to photo prints that are collected in an album and a special way to display your snapshots at their best in a handy size.
Pixum offers a broad range of formats and sizes for any occasion: The small version is very handy, perfect for small purses and fits into every pocket. Of course, you can create books of bigger sizes like portrait, landscape and square format as well. Furthermore, a XXL version is the right choice if you need or want to display your photos in a particularly impressive way. Pixum Photo Books - the extraordinary album to hold on to unforgettable moments!
It is so easy to create Pixum Photo Books
Simply download the free software, upload your snapshots, pick a format and size for your book, and freely choose a number of pages as well as a binding method and cover type from hard-, soft- or linen covers. Select your favourite designs and layouts to provide a personal touch. Have a look at some examples and create your own unique piece of art - using as many pictures as you like. There is hardly any limit to realise your ideas and to display your photos according to your wishes.
Display photos at their best to keep yourself or use as a personalised gift for your family and friends. Pixum only uses high-quality printing methods and premium paper. Order your photo books, Photo Gifts and Photo Calendars from Pixum, the photo service that won several tests and price comparisons.