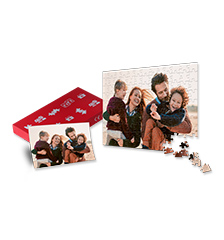 Make fun of your pictures
You want to give your friends some fun with an original and meaningful present! The Jig Saw Puzzle by Pixum is great fun and made of a picture which means a lot to you and your friends. You choose the level of difficulty and not to make it too much of a headache, the original picture will be included.
I am extremely lucky and grateful to Pixum. I have used your company several times for photo processing, photobooks and calendars and I am a very satisfied customer.

Jim S.