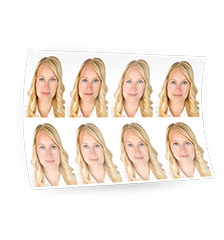 Passport photos
£2.49
(VAT included,
P&P
excluded)
Officially good-looking
Nobody thinks they look good on their ID pictures! We always mess them up at the machine, but those are the pictures we use the most and we can't change them that often! Two good reasons to use the Pixum ID Photos! You can finally choose your favourite digital picture of you to create your ID Photos. Just upload it and we will turn it into 8 ID Photos ready to use for any of your papers!
Product ratings - Passport photos
∅
4,8

/

5

Stars (

5

Comments)
5 Stars:

(4)

4 Stars:

(1)

3 Stars:

(0)

2 Stars:

(0)

1 Star:

(0)
Wir sorgen für Transparenz!
Hier finden Sie Produktbewertungen, die von unseren Kunden für unsere Kunden eingeschickt wurden.
Reviews:
it was good and the quality was also good

Ordered set of passport photos for 3 different people. Arrived within 2 days and were approved by passport office. Excellent value and quality.

Simple! I ordered passport photos and they were accepted by the passport office. Surprised me as I had taken them myself and Pixum surplied the prints!

Excellent. My elderly mother wanted photos for a disabled car badge (Blue Badge). She was unable to leave the house to get passport size photo so this was ideal. Many thanks for prompt and efficient service.

the process starting at loading images from my PC through to receiving photos was straight forward and intuitive and took less than 1 week. I would recommend to anyone.