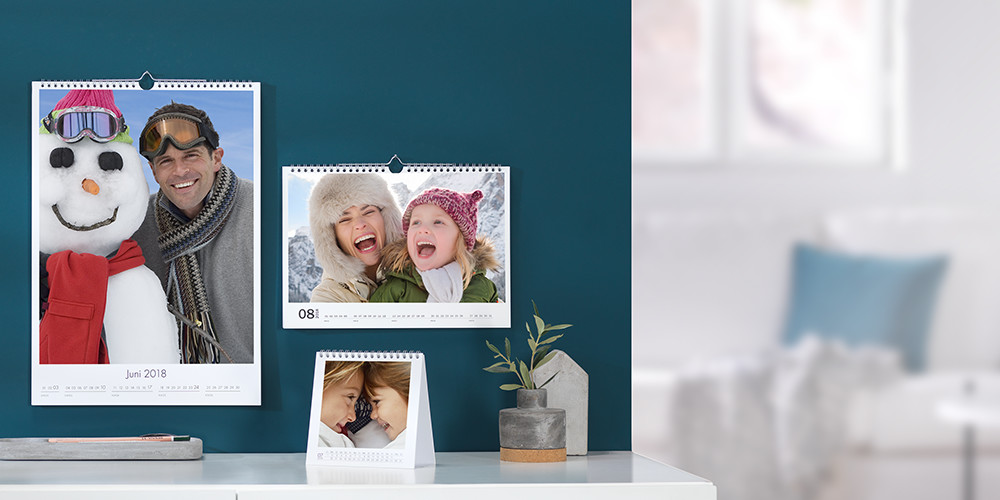 Make your own calendar at Pixum
Pixum enables you to make your own calendar yourself and enjoy your favourite images for a whole year. If you have no idea how to display your best snapshots in a suitable way, do not keep them on your computer or in a cupboard but collect them in a personalised calendar.
A calendar displaying your pictures is a great eye-catcher for every wall, desk or any other surface. Whether you pick photos of your loved ones, your favourite holiday site or your funny pets, every image is shown at its best! Keep this calendar yourself and be able to call special moments to your mind or use it as an extraordinary and personalised gift for others! A Pixum Photo Calendar is easy to make and a marvellous way to display your favourite snapshots!
Pixum Photo Calendar - many options to choose from
If you make your own calendar at Pixum, you are spoiled for choice: first, pick a Wall Calendar or a Desk Calendar and decide between a Kitchen Calendar, a kind of Planner and a Year Calendar. Second, select a format (A4, A3, portrait, landscape or square), binding method and type of paper as well as one of numerous designs to provide a personal touch for your calendar. There are no limits to realise your ideas and show your creative talent.
It is so easy to make your own calendar: Simply upload your favourite snapshots, assign them to a month as you like and finally place your order. Of course, Pixum only uses modern printing methods to guarantee high quality and perfect processing. Order Pixum Photo Calendars you created yourself and trust the award-winning photo service.
Create your own Pixum photo calenedar today. On Reviewcentre we have 305 reviews, with an average of 4.3 stars out of 5 possible.
The Pixum photo calendar starts from £9.99
High-quality materials
Brilliant colours
Strict quality controls
Speedy and reliable delivery


*Voucher codes are valid up to and including 30/06/2019 and are valid for photo calendar purchases, the code gives £10 discount. The discount will be applied to the total value of your order before postage and packing, not per individual product. The vouchers can only be redeemed once pr houeshold, order or invoice. It is not possible to redeem more than one discount code pr. order.