Themed Photo Book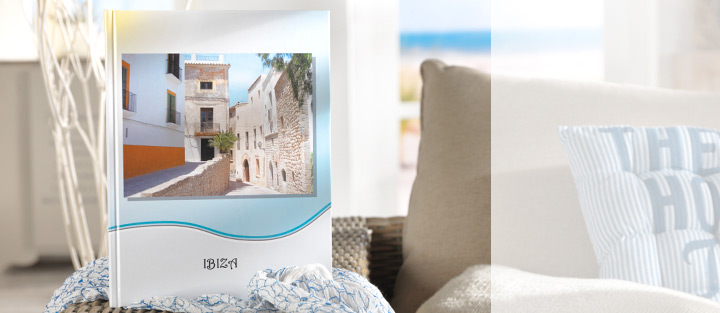 THEMED PHOTO BOOK HOLIDAY
Collect your greatest memories
Images of summer & winter
Themed designs & layouts
Photo collages create a holiday feeling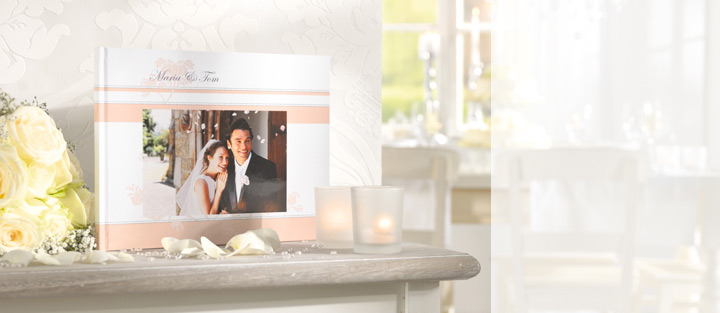 THEMED PHOTO BOOK WEDDING
Hold on to the greatest day of your life
Floral designs in red & cream
Wedding symbols to decorate
Romantic quotations and sayings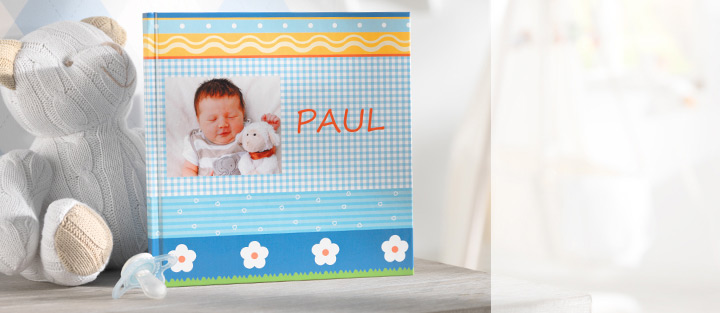 THEMED PHOTO BOOK BABY
Clear the stage for
your small loved ones
Many colours to choose from
Cars, teddies and more
Texts for birth & toddlers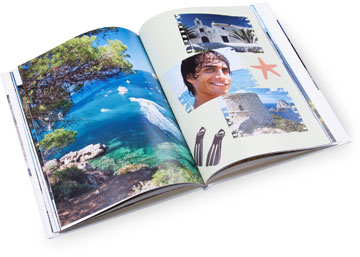 Themed Photo Book - holiday style
Choose from many free themed designs and backgrounds and create a special holiday feeling.
Use completely designed pages with
little boats, coloured fishes & more for photos of summer holidays.
If you need elements of winter, you can freely download the additional package "winter holiday" in our software.
Themed Photo Book - wedding style
Hold on to dreamlike moments by using our free packages on the theme "wedding" and by creating an appropriate memory.
If you like it kitschy, you should choose one of our floral designs in red or cream. Suitable quotes and sayings written on elegant backgrounds are part of our classic package of "wedding" designs.
Show each step of your wedding with refinements.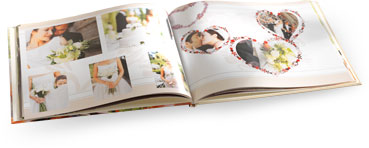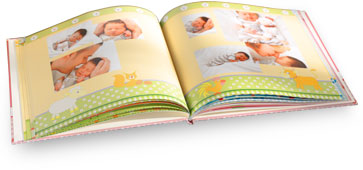 Themed Photo Book - baby style
Find beautiful designs and backgrounds in our free packages on the theme "baby".
You can choose cream, green, orange, pink, blue or red as a colour. We offer completely designed backgrounds with small cars, cute teddies, beautiful butterflies, suggestions for texts & more.
Take the first snapshots of your honey and combine them with our templates to form a great visual diary.
You can find more themed designs in our Pixum Photo Book software:
Choose the option "download more" from the tab "contents", download more free themed designs and use them to create your personalised Pixum Photo Book.
You only have to download each design once, save your favourite ones in your software and thus make them available as a content for any other Pixum Photo Book you are going to create.
Create Themed Photo Books - save time and impress others
If you would like to create a Pixum Photo Book with extraordinary designs but do not have enough time or patience, we have a solution for you:
Our Pixum Photo Book software offers completely designed templates on themes like wedding, baby, holiday, confirmation, soccer or scrapbook for 4 Pixum Photo Book sizes. With just a few clicks, you can create great photo books with matching backgrounds, funny cliparts, texts & more.
The following sizes are available as Themed Photo Books:
It's so easy:
Choose the tab "Themed Photo Book" when you open the Pixum Photo Book software.
Choose one of the 4 sizes that are available as a Themed Photo Book.
Choose a design you like from the tab "contents" and drag it to the page(s) of your choice.
Now you only have to choose your photos, add them to the pages and you have created a personalised Themed Photo Book.
Sizes and prices
Size
Cover
Paper
Price for 26 pages
Pixum Photo Book small (landscape)
Size: 19×15 cm
Number of pages: max. 74


Photo booklet
Softcover
Hardcover

from £9.99

More information »

Price for each set of 8 extra pages from £3.00
Prices & Postage »
Pixum Photo Book large (square)
Size: 21×21 cm
Number of pages: max. 98


Photo booklet
Softcover
Hardcover

Premium paper
Photo paper silk mat

from £14.99

More information »

Price for each set of 8 extra pages from £3.60
Prices & Postage »
Pixum Photo Book large (portrait)
Size: 21×28 cm
Number of pages: max.154


Photo booklet
Softcover
Hardcover
Linen cover

Premium paper
Premium paper with gloss coating

from £15.99

More information »

Price for each set of 8 extra pages from £4.00
Prices & Postage »
Pixum Photo Book XXL (landscape)
Size: 42×30 cm
Number of pages: max. 154


Hardcover
Premium linen
Faux leather

from £59.99

More information »

Price for each set of 8 extra pages from £8.00
Prices & Postage »
Size
Cover
Papier
Price for 26 pages
Pixum Photo Book small (landscape)
Size: 19×15 cm
Number of pages: max. 74


Photo booklet
Softcover
Hardcover

from £9.99

More information »

Price for each set of 8 extra pages from £3.00
Prices & Postage »
Pixum Photo Book large (landscape)
Size: 28×21 cm
Number of pages: max. 154


Premium paper
Photo paper silk mat
Premium paper with gloss coating

from £29.99

More information »

Price for each set of 8 extra pages from £4.00
Prices & Postage »
Themed Photo Book large (landscape)
Size: 28×21 cm
Number of pages: max. 154


Premium paper
Premium paper with gloss coating

from £29.99

More information »

Price for each set of 8 extra pages from £4.00
Prices & Postage »
Pixum Photo Book XXL (landscape)
Size: 42×30 cm
Number of pages: max. 154


Hardcover
Premium linen
Faux leather

from £59.99

More information »

Price for each set of 8 extra pages from £8.00
Prices & Postage »
Size
Cover
Paper
Basic price for 26 pages
Pixum Photo Book large (portrait)
Size: 21×28 cm
Number of pages: max.154


Photo booklet
Softcover
Hardcover
Linen cover

Premium paper
Premium paper with gloss coating

from £15.99

More information »

Price for each set of 8 extra pages from £4.00
Prices & Postage »
Themed Photo Book large (portrait)
Size: 21×28 cm
Number of pages: max. 154


Premium paper
Premium paper with gloss coating

from £19.99

More information »

Price for each set of 8 extra pages from £4.00
Prices & Postage »
Pixum Photo Book XXL (portrait)
Size: 28×36 cm
Number of pages: max. 154


from £49.99

More information »

Price for each set of 8 extra pages from £8.00
Prices & Postage »
Size
Cover
Paper
Price for 26 pages
Pixum Photo Book small (square)
Size: 14×13 cm
Number of pages: max. 50


from £7.95

More information »

Price for each set of 8 extra pages from £2.00
Prices & Postage »
Pixum Photo Book large (square)
Size: 21×21 cm
Number of pages: max. 98


Photo booklet
Softcover
Hardcover

Premium paper
Photo paper silk mat

from £14.99

More information »

Price for each set of 8 extra pages from £3.60
Prices & Postage »
Themed Photo Book large (square)
Size: 21×21 cm
Number of pages: max. 98


from £18.99

More information »

Price for each set of 8 extra pages from £3.60
Prices & Postage »
Pixum Photo Book XL (square)
Size: 30×30 cm
Number of pages: max. 154


Premium paper
Photo paper silk mat
Premium paper with gloss coating

from £39.99

More information »

Price for each set of 8 extra pages from £6.00
Prices & Postage »
Themed Photo Book XL (square)
Size: 30×30 cm
Number of pages: max. 154


Premium paper
Premium paper with gloss coating

from £39.99

More information »

Price for each set of 8 extra pages from £6.00
Prices & Postage »
Size
Cover
Paper
Price for 26 pages
Pixum Photo Book small (square)
Size: 14×13 cm
Number of pages: max. 50


from £7.95

More information »

Price for each set of 8 extra pages from £2.00
Prices & Postage »
Pixum Photo Book small (landscape)
Size: 19×15 cm
Number of pages: max. 74


Photo booklet
Softcover
Hardcover

from £9.99

More information »

Price for each set of 8 extra pages from £3.00
Prices & Postage »
Pixum Photo Book large (square)
Size: 21×21 cm
Number of pages: max. 98


Photo booklet
Softcover
Hardcover

Premium paper
Photo paper silk mat

from £14.99

More information »

Price for each set of 8 extra pages from £3.60
Prices & Postage »
Pixum Photo Book large (portrait)
Size: 21×28 cm
Number of pages: max.154


Photo booklet
Softcover
Hardcover
Linen cover

Premium paper
Premium paper with gloss coating

from £15.99

More information »

Price for each set of 8 extra pages from £4.00
Prices & Postage »
Themed Photo Book large (square)
Size: 21×21 cm
Number of pages: max. 98


from £18.99

More information »

Price for each set of 8 extra pages from £3.60
Prices & Postage »
Themed Photo Book large (portrait)
Size: 21×28 cm
Number of pages: max. 154


Premium paper
Premium paper with gloss coating

from £19.99

More information »

Price for each set of 8 extra pages from £4.00
Prices & Postage »
Pixum Photo Book large (landscape)
Size: 28×21 cm
Number of pages: max. 154


Premium paper
Photo paper silk mat
Premium paper with gloss coating

from £29.99

More information »

Price for each set of 8 extra pages from £4.00
Prices & Postage »
Themed Photo Book large (landscape)
Size: 28×21 cm
Number of pages: max. 154


Premium paper
Premium paper with gloss coating

from £29.99

More information »

Price for each set of 8 extra pages from £4.00
Prices & Postage »
Pixum Photo Book XL (square)
Size: 30×30 cm
Number of pages: max. 154


Premium paper
Photo paper silk mat
Premium paper with gloss coating

from £39.99

More information »

Price for each set of 8 extra pages from £6.00
Prices & Postage »
Themed Photo Book XL (square)
Size: 30×30 cm
Number of pages: max. 154


Premium paper
Premium paper with gloss coating

from £39.99

More information »

Price for each set of 8 extra pages from £6.00
Prices & Postage »
Pixum Photo Book XXL (portrait)
Size: 28×36 cm
Number of pages: max. 154


from £49.99

More information »

Price for each set of 8 extra pages from £8.00
Prices & Postage »
Pixum Photo Book XXL (landscape)
Size: 42×30 cm
Number of pages: max. 154


Hardcover
Premium linen
Faux leather

from £59.99

More information »

Price for each set of 8 extra pages from £8.00
Prices & Postage »
Pixum Photo World software
Create your Pixum Photo Book with just a few clicks