Tough-Case for Apple
iPhone 11 Pro Max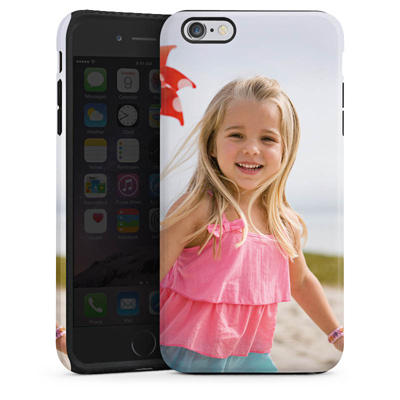 Image similar
Your Tough-Case for Apple
iPhone 11 Pro Max:
Tough-Case: Classy design or excellent protection - why not both?
The perfect combination of reliabiliy and style, both for every day use and outdoor activities.
We carry our smartphone with us at all times, nowadays. This companion should be protected properly with a sturdy and functional mobile case. Who wants to risk getting their phone dent or scratched? Sadly, practical and pretty don't always go hand in hand when it comes to smartphone cases. The Pixum Tough-Case finally solves that problem!
The Tough-Case can handle anything
With the customizable Pixum Tough-Case you have it all: perfect protection and the design to suit your taste. On the outside, the Tough-Case has a stylish and sturdy hard case; On the inside, the smartphone is snugly fit into a shock proof silicone case. This combination makes for a realiable protection against any external influences, while still looking extremely classy. There are even some nicks for aspects like the charger cable or the headphones, to add to its practicality.
A smartphone case, the way you want it
Not only does Pixum offer you the perfect protection for your smartphone, but you can even design it exactly the way you want it. The Tough-Case is ideal for anybody who loves the outdoors, while still carrying a stylish accessory that provides:
Protection from damage done to your phone, from falling or bumping
Protection from scratches
Professional photo print with briliant colours and excellent details
Pixum - Excellent quality
Customer reviews
You might also like these smartphone cases