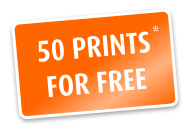 50 Free Photo Prints*
Order 100 photo prints online & only pay for 50. Get 50% OFF your photo prints!
Multiple award-winner
Stunning colours, printed on photo paper
Speedy dispatch & delivery
Your voucher code* is:
Order Yours
Choose your photo print size
Sizes and formats of your 50 free photo prints
At Pixum, we print your photos according to the aspect ratio or the shorter side of your uploaded image. This means, that you, for example, chose to get 10 cm photo prints; 10 cm is then the width of the shorter side of your photo print. The longer side of your photo print will depend entirely on the actual format of your uploaded photo. It might be square, if the uploaded image was square in shape. So it depends on the original size of the image file we receive, how much photo paper we need to use in length to print your photo.
Otherwise, you would receive your prints with white borders or parts of your photos cut off to fit one single size. This is the reason why Pixum offers you as the customers to choose by the shorter side of your photo, which will then be developed in its full format as sent to us by you.
If you wish to have your photo prints developed in the classic 4:3 ratio and having the option of choosing which part will be cut off from your image, please download the Pixum Photo World software or the Pixum Photo Book app, which will enable you to make use of our full range of options. The voucher will also be redeemable there, of course.
How can I get my 50 free prints?
Select your preferred format, either 9 or 10 cm prints (with or without white border).
Upload 100 of your favourite photos.
Place your photos in the shopping basket.
Enter the voucher code at checkout by clicking on "Redeem voucher".
The discount will be deducted immediately - you get 50 free prints and only pay for 50 photo prints.
Free premium quality photo prints
We hope you enjoy your free photo prints and the Pixum premium quality of your photo prints! Concerned about the quality offered to our customers, we take great care when printing you images. You will receive crisp photos with brilliant colours, which were printed on glossy 233g/m2 strong paper. Our Automatic Image Optimization (DPO) ensures an optimal result of your uploaded image and makes the colours of your photos pop. Of course, if your photos have already undergone special treatment, i.e. editing through other programs, we advise disabling this option and unchecking the corresponding box in the shopping basket.
Free photo prints ordered in just a few clicks
Ordering photo prints has never been easier. Pixum offers you an intuitive interface to order your free photo prints. Simply select the photos you want to print and upload them in the online editor. Your prints will be printed as soon as possible and delivered to you in just a few days. If you have any questions about your photo prints order, our customer service is here to help.
Other materials available for your photo prints
Do you have those one or two photos that you would love to see hanging on your wall? Then try one of our Pixum Wall Art printing materials, from canvas, acrylic glass, aluminium, hard foam to pine wood panels. You prefer a poster? In the Photo Posters section you will find 42 different formats and 6 different paper types to choose from and to make your pictures stand out. You can also have your poster framed under glass with a choice of 18 frames! If you are looking for a printing material that will really bring a difference to your home, then try a new format. At Pixum, you can print your photos on canvas , on acrylic glass , on aluminium or on pine wood panels
.
Pixum - Excellent quality
Customer Feedback: Photo Prints