Photo books with text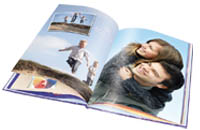 Photograph albums and photo books are a fantastic way to preserve those special memories. Sometimes, you may find when you look back at them that you cannot remember all the details, and wish that you had labelled the pictures. Or perhaps when you create your photograph album you struggle to find a way to add captions to your photographs in an attractive way. There are a few ways to add text to a photograph album whilst still showing your photos to the fullest advantage.
Photograph albums can be purchased with pockets to insert your photos and card inserts on which to write captions or information. Whilst this is a practical option, there are other display methods which are more pleasing to the eye. You could try creating your own labels, using a computer or hand lettering techniques such as calligraphy. These can be added into your photograph album in your preferred design and so can be used to enhance the appearance. To take this a step further, you could put your photographs into a scrapbook or memory album, which will allow you to add text directly onto the page or to stick in printed captions, along with other embellishments.
Creating an individual photo book using computer software, such as that available from us at Pixum is an excellent way to design beautiful, professional looking albums. In a computer-designed photo book, not only can you add information for future reference, but you can incorporate text as part of the book's overall design. By designing your photo book on a computer and having it professionally printed, the addition of text can be done in a way that accentuates the display of your precious memories. Your text can be added in a range of sizes, colours and fonts, and can even be used as a border to your photographs. The text can also be added to the cover, to use this as part of the display of your photographs.
There are a few different ideas here of how to create a photo book with text, from photograph albums with simple card inserts to creatively designed and professionally printed photo books. They each have their own advantages; hand lettering photograph albums or scrapbooks is very time consuming, but can be cheaper to produce, whereas computer designed photo books can be created quickly and easily but may cost a little more for the professional printing required.